2 May 2023
Congratulations to G. Harrison on a successful thesis defense. G investigated subterranean arthropods in the Appalachian Mountains. Check out some of the critters that G encountered during research.
20 June 2022
Congratulations to Fernanda Vasquez on her first publication! Although the SARS-CoV-2/COVID-19 pandemic created challenges for fieldwork, Fernanda responded and adapted her project to include a citizen science component to obtain samples for her research. Read about the project in her article published in ZooKeys.
Vasquez-Valverde, L.F., P.E. Marek. 2022. Phylogenetic review of the millipede genus Cherokia Chamberlin, 1949 (Polydesmida: Xystodesmidae), ZooKeys, 1106: 141–163. https://doi.org/10.3897/zookeys.1106.81386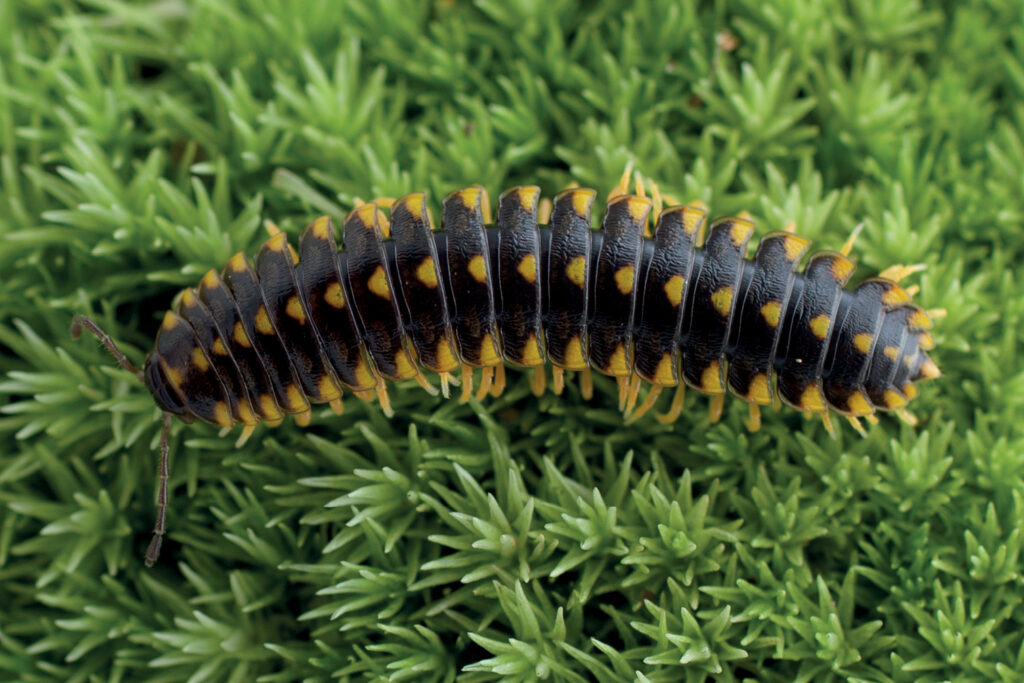 11 March 2022
Our research on the leggiest animal on the planet, was highlighted in the kids magazines Ranger Rick, Scholastic News, Animal Tales, News-O-Matic, National Geographic Kids, Le Petit Quotidien, Science et vie découvertes, Magazin für Neugierige, and Dong-A Science Magazine.
16 December 2021
An article from our lab, "The first true millipede—1306 legs long", published in the journal Scientific Reports, and reporting the leggiest animal on the planet, received international media attention with interviews published in the New York Times, The Atlantic, BBC's World Report, NPR's All Things Considered, Reuters, Izvestia, National Geographic, and more.
10 August 2021
Welcome to new masters student Garrett Harrison. Garrett recently graduated from Georgia College and State University where he worked in Bruce Snyder's earthworm and millipede ecology laboratory.
7 May 2021
Congratulations to Luisa Fernanda Vasquez Valverde on a successful thesis defense. Fernanda studied the xystodesmid millipede genus Cherokia. Although the SARS-CoV-2/COVID-19 pandemic created challenges for fieldwork, Fernanda adapted and developed a citizen science project to obtain specimens for her research. Fernanda presented her thesis research on YouTube live. She is currently working on publishing her thesis, and is a PhD student in Department of Entomology at Virginia Tech.
5 March 2021
Reporter Janay Rice at WDBJ Channel 7 interviewed Jackson Means about the discovery of Nannaria hokie, a new millipede species that we discovered on Virginia Tech's campus. Jackson, a graduate of the Department of Entomology, is now Myriapodologist at the Virginia Museum of Natural History.
7 April 2020
Congratulations to Derek Hennen for successfully defending his dissertation. Derek studied the millipede genus Nannaria, a group with dozens of new species in the Appalachian Mountains, as well as the genus Pseudopolydesmus, the swift pink millipedes. Although we weren't able to hold Derek's defense in person, he delivered a stellar seminar in the department's first YouTube live defense with nearly 200 people (virtually) attending.
6 September 2019
Paul Marek was promoted to associate professor with tenure at Virginia Tech. Thanks to everyone who helped over the past six years and beyond. As a result, we will be able to more keenly focus on studies of millipede diversity and taxonomy from our lab at Virginia Tech in the near future.
11 August 2019
Welcome to new masters student Luisa Fernanda Vasquez Valverde from Bogota Colombia. Fernanda recently graduated from the Universidad Nacional de Colombia where she worked in Eduardo Florez's Laboratorio de Aracnología & Miriapodología.
13 December 2018
Congratulations to Jackson Means for successfully defending his dissertation. Jackson studied the millipede family Xystodesmidae and focused on the genus Nannaria—a group with dozens of new species in the Appalachian Mountains. Jackson is the first PhD student to graduate from the lab.
10 August 2018
Anna's Science Magic Show Hooray visited our lab to talk about millipedes and to discuss the question, "Why do millipedes have so many legs?"

20 April 2018
Congratulations to Derek Hennen for receiving a Theodore Roosevelt Memorial Research Grant for his collections based research on millipedes. Thanks to the American Museum of Natural History (AMNH) for providing this funding.
5 February 2018
The wonderful thesis work of Victoria Wong on the natural history of the social millipede Brachycybe lecontii is now available. Congratulations to Victoria, the first graduate student from the lab! Be sure to check out her amazing scanning electron micrographs and illustrations.
31 January 2018
Vittoria Traverso from Atlas Obscura talked with us about the discovery of a new millipede, Apheloria polychroma, and wrote an article about research in our laboratory.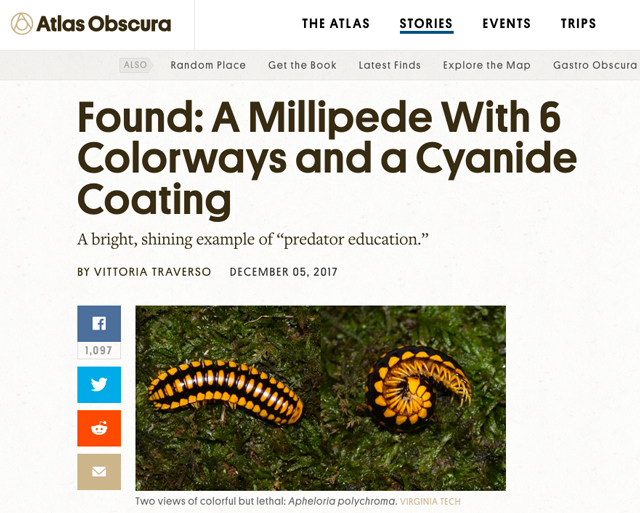 5 July 2017
The Roanoke Times highlighted the research of lab member Jackson Means, who is studying the Laurel Creek Millipede, Sigmoria whiteheadi. In the article, Jackson discusses the rarity of the species and the ecological importance of millipedes.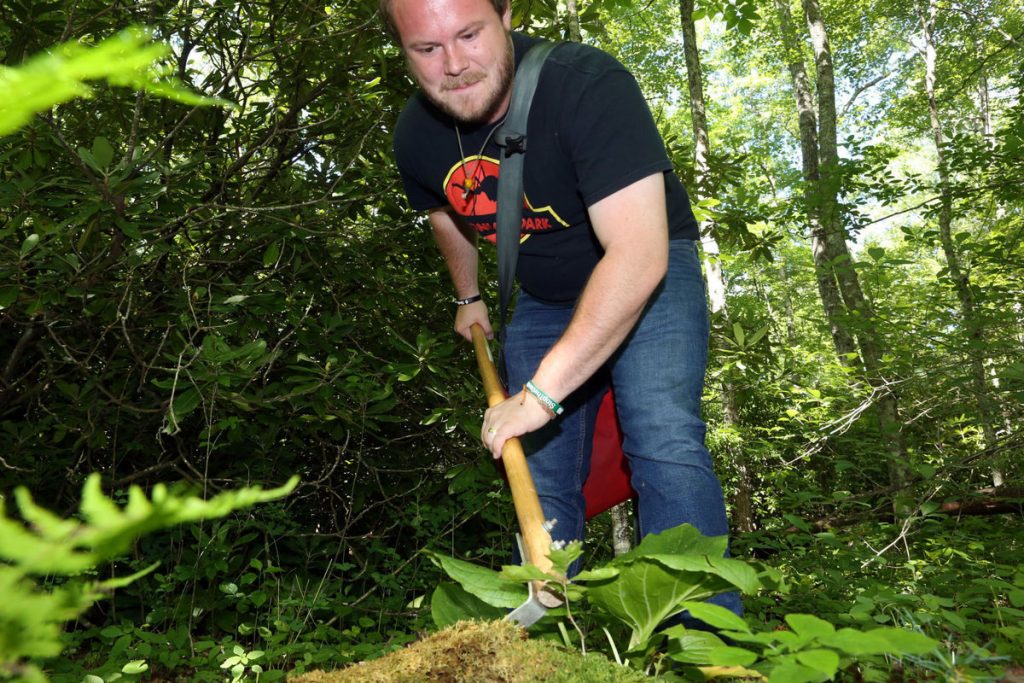 Photo by Matt Gentry of the Roanoke Times
18 May 2017
The International Institute for Species Exploration at SUNY-ESF included Illacme tobini, a millipede that we described in the lab, in their 2017 Top Ten New Species. Other new species in the list are the Sorting Hat spider, Devil orchid, and Swimming centipede.

21 November 2016
Our lab's new millipede species and its anatomical challenges with walking discussed on Saturday Night Live's Weekend Update.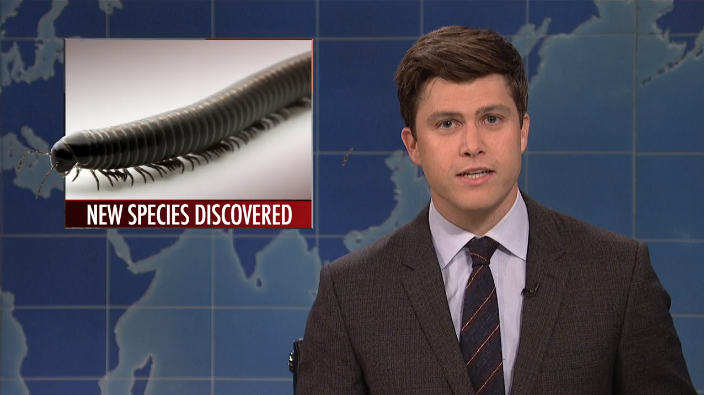 31 October 2016
Our recent paper describing a new species of millipede was highlighted in the New York Times, Washington Post, La Vanguardia, Le Point, Sputnik Deutschland, and Phap Luat Plus!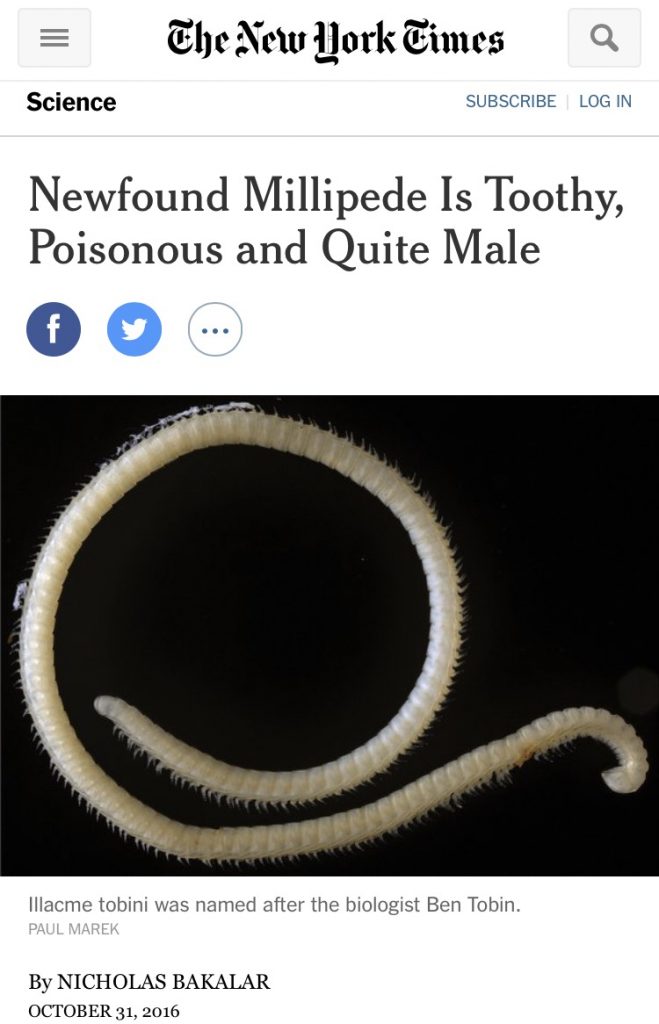 4 June 2016
Field work started early this year with a survey of myriapods in Jefferson National Forest in the winter (February – April) and spring (May). Buotus carolinus (family Buotidae), Cleidogona hoffmani (Cleidogonidae) and Dixioria fowleri were the targeted species. We found several new populations of the rare and enigmatic (and minuscule < 4 mm long!) species B. carolinus. Individuals of this species were encountered beneath rocks and in  accumulations of dead leaves and scree.
This summer, PhD students Jackson and Derek are collecting throughout Appalachia. Earlier this month, they traveled to eastern Virginia, Tennessee, and Alabama and now they're headed to Georgia and North Carolina.
15 October 2015
This year's winner of the First Annual Photuris Challenge is Derek Hennen! Congratulations Derek phor being the phirst of the pholks to phind phive Photuris!
This Saturday is Hokie Bugfest and our laboratory runs a bioluminescent insects exhibit. For the exhibit, we've always had luminescent Photuris firefly larvae. These are great examples of insect bioluminescence that we can find in the fall and light up when handled. They're excellent for describing bioluminescence, luciferase-luciferin dynamics, and folks of all ages really get a kick out of them. Kids (and adults) are amazed that they're immature fireflies, and really like to see them feed on earthworms. (You can even rear them to adulthood by feeding them!) The really cool thing about using Photuris larvae is that you can flip their luminescence to the daytime by keeping the lights on during the night and in the dark during the day (thanks Rick Fell for sharing the technique!)
This year's run-up to  Bugfest, we've had some difficulty finding Photuris larvae. The first year, we collected a bunch from a stream-bank in Ironto (Virginia), and the second year Jackson collected a bunch from the departmental pumpkin patch at the university farm (2-3 individuals beneath each pumpkin!). The search in the pumpkin patch on Monday did not result in any specimens, and perhaps it's due a change in the substrate of the patch. So this year, in order to have specimens for Bugfest, we set forth The First Annual Photuris Challenge. Pat visited Stadium Woods, Katy searched around Blacksburg, Tree looked in her backyard, Derek perused the Duck Pond, Jackson and Paul looked for them at the university farm. The critters eluded everyone except Derek, who provided me a text-by-specimen update: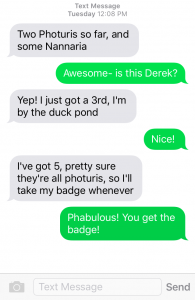 As a prize for this significant discovery and saving our Bugfest booth from being just about fluorescent scorpions, Derek receives the first ever Photuris Discovery Badge. Derek won't be able to bask in the cold glow of his discovery though as he is traveling to Arkansas today to defend his masters thesis.
Thanks Derek for the wonderful discovery and saving the day!
24 August 2015
Welcome to the newest members of our lab: Rhea Wong and Derek Hennen! Rhea joins us from the University of Illinois Urbana-Champaign where she recently graduated as an Entomology major. Rhea began entomological research as a high school student in the laboratories of Alison Hansen, Barry Pittendrigh and May Berenbaum. In the masters program here at Virginia Tech, Rhea plans to study the physical properties of insect iridescence (as part of her research position in the Virginia Tech Insect Collection) and the natural history of the fungivorous social millipede Brachycybe lecontii Wood, 1864. Derek, from the Entomology Department at the University of Arkansas, has quickly become an expert in millipede and insect natural history. Derek studied the endemic arthropods of Arkansas and was funded by the Ohio Biological Survey to conduct a survey of the millipedes of the Buckeye State. Most recently, Derek published an article describing several new species of the millipede genus Mimuloria. As a PhD student here at Virginia Tech, Derek plans to study mimicry in the cyanide-producing genus Apheloria and develop a taxonomic monograph of the Appalachian millipede genus Nannaria. Welcome Derek and Rhea!
12 August 2015
Jackson Means, PhD student in the lab, made the front page of Virginia Tech's website! Jackson participated in a communicating science course through VT's School of Performing Arts. Pictured below, Jackson is demonstrating the evolution of insect wings through outgrowths of the pleuron into epicoxal lobes (his arms depict the epicoxae).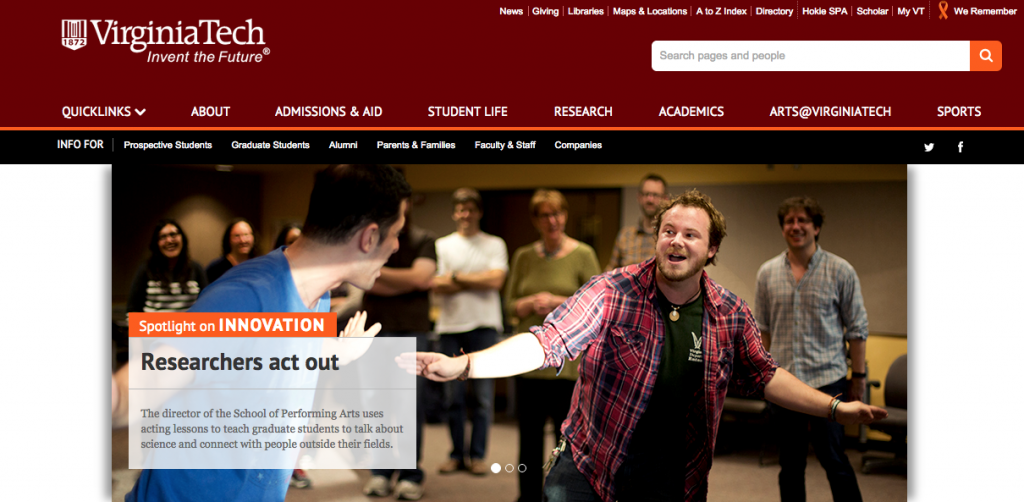 4 August 2015
Our recent PNAS article about the gradual evolution of bioluminescence in millipedes is featured on the front page of the National Science Foundation's website!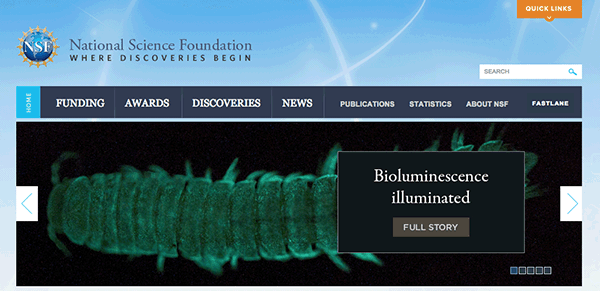 24 June 2015
Each week Tom McFadden, science rapper and 8th grade teacher extraordinaire, chooses an article from the New York Times science section to rap about. This week, he chose to highlight bioluminescent millipedes! Be sure to check out his other YouTube videos and this song by his students about Rosalind Franklin and the discovery of DNA!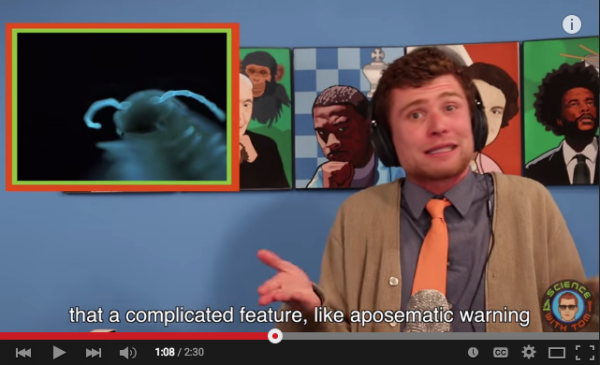 22 June 2015
James Gorman and David Frank at the New York Times scientific series ScienceTake wrote an excellent summary of our research, including a fantastic video!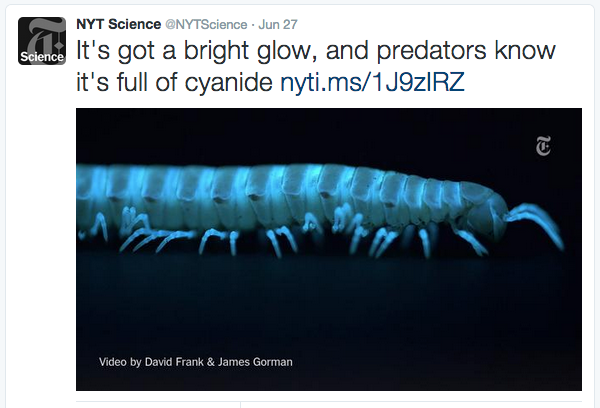 11 June 2015
Our laboratory's millipede research is highlighted on the home pages of the National Science Foundation and Virginia Tech!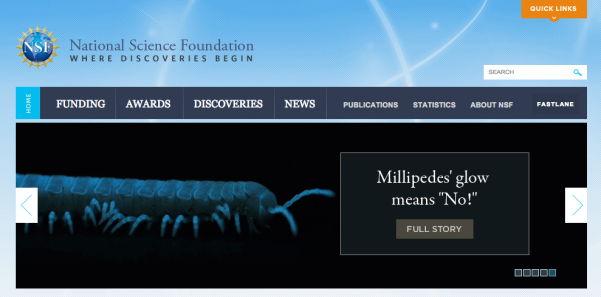 5 June 2015
We held a workshop on myriapods (millipede, centipedes, and relatives) at Highlands Biological Station (Highlands, NC). Instructors were Bill Shear, Paul Marek, Jason Bond and Petra Sierwald. From left to right: P. Marek, J. Means, P. Sierwald, J. Rodriguez, Marshall, P. Shorter, P. LaPoint, B. Shear, E. Bond, C. Richart, J. Bond, S. Loria, S. Hasbrouck, M. Hernandez, D. Hennen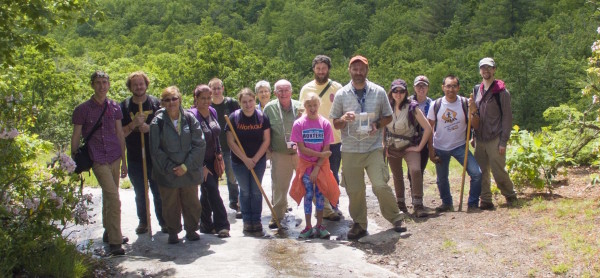 25 May 2015
Undergraduate student Pat Shorter joins the lab for the summer. Her position is supported by an REU stipend as part of our NSF grant on millipede phylogenomics (DEB#1256139). Welcome Pat!
5 May 2015
Our recent bioluminescent millipede paper highlighted by National Geographic News, Discovery News, and Полит.ру!
4 May 2015
Our paper about the evolution of bioluminescent millipedes was published in PNAS!